It's Tuesday, so you know the drill: it's time for Social Media TOS Tuesday!
After dealing with Instagram last week and the previous one (even prompting some discussions in the community), I'd like to tackle an easier topic: Facebook Page Cover Images.
Your first time coming across a Social Media TOS Tuesday? Read this first!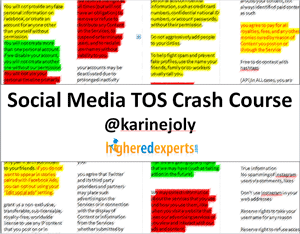 In my Social Media TOS Tuesday posts (that I'll update if any change happens), I'm addresssing some of the points I see most often infringed in higher education as well as any specific questions you might have about what you can or can't do as a social media professional according to the terms of service (TOS) of the main platforms.
I'm not a lawyer (so, never consider what I post as legal advice :-) the previous line is part of the TOS of this blog ;-), but I read what nobody does – the TOS! – to prepare a presentation I will give for the last time this year at the High Ed Web conference in Buffalo, NY next month: Social Media TOS Crash Course.
Facebook Cover Pages: Did you read the *latest* memo on the guidelines?
Facebook likes to keep us on our toes with new features, privacy policy data use policy updates and changes in its guidelines to use Facebook Cover Pages.
Facebook knows pretty well that visuals are super, super important – which might explain the multiple changes in the guidelines pertaining to cover images since they were first introduced for Facebook Pages.
A change even caught me off guard the second time I presented my Social Media TOS Crash Course this summer. Only 4 weeks elapsed between the PSEWEB conference in Vancouver and the eduWeb conference in Boston, but Facebook did amend its guidelines once again at that time!
Instead of going through the history of changes, let's just focus on the guidelines as they are today (and promised, I'll update this post if Facebook changes its mind again ;-)
The good news is that Facebook has made the guidelines less complicated through these different changes – allowing more and more what was forbidden before.
3 things you CAN'T do with your school's Facebook Page cover image
As I wrote several times in the past, I don't want to get anybody in trouble, so I won't post any visual examples of infringement in this section.
You can't encourage your Facebook community to use your school Facebook cover page as theirs (which is something that is/was done in higher ed to ask alums or students to show their true colors)
You can't convey misleading or deceptive messages through your cover image
You can't post a photo without having the permission from the copyright holder (usually the person who took the photo, but check) as this would qualify as copyright infringement
3 things you CAN do with your school's Facebook Page cover image
I know that visuals help people remember, so here are 3 screenshots to illustrate what can be done.
You can have a call to action with a web address

You can have as much text as you want

You can post a beautiful visual of your campus or a photo of people as long as you have proper permissions from the copyright holder