About
"News, tips and, hopefully, some good ideas for people taking care of websites and online marketing in colleges and universities."
That's the big idea (?) behind this blog.
Collegewebeditor.com is an independent, popular, and influential blog about the Web, marketing, and PR in higher education. Launched in February 2005, this niche blog now attracts more than 10,000 unique visitors per month, more than 2,000 readers by RSS feed and close to 2,500 email subscribers, a very targeted audience composed of higher ed professionals and executives.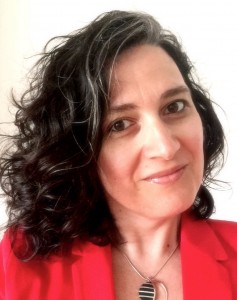 Karine Joly is a Web marketing professional, an expert in social media marketing and the Web editor behind www.collegewebeditor.com.
In 2007, she founded Higher Ed Experts , a professional online school for executives and professionals working in universities and colleges around the world. At Higher Ed Experts, Karine oversees the development of the curriculum. She teaches an 8-week online course on Social Media Marketing for Higher Ed. She also designed and taught the capstone graduate online course for the MBA in Social Media at Southern New Hampshire University: Social Media Marketing Campaigns.
Her professional career spans more than 20 years of experience in communications in the US, Canada and France including 10 years in Web content development, marketing and strategy in higher education.
Karine authors the Internet Technologies column of University Business and writes periodically for other publications (University Affairs, CASE Currents, etc.). Karine is a regularly invited speaker at leading web conferences (CASE, American Marketing Association, EduComm, eduWeb, CUPRAP, etc.).
Karine was previously Web editor for a liberal arts college on the east coast and worked in the past on selective consulting projects related to social media, Web strategy, print/electronic publication audits for a small number of universities, colleges and schools.
Before focusing on Web 2.0 in higher education, she experienced first hand Web 1.0 as a Web editor at About.com, a top 10 Web property that is now part of The New York Times Company. Prior to the dot com boom (… and bust), Karine worked as a journalist for several radio stations, newspapers, and magazines in Europe.
She has a master's degree in communication from La Sorbonne in Paris (CELSA) and a Webmaster Certificate from Rutgers University, NJ.
Recently published articles
Presentations
Interviews, Quotes & Mentions
Recently published articles:
Crisis communications 2.0 – Sep 2007
New technologies are changing the way schools get the message out when a crisis erupts on campus. But the most valuable tool in the communications toolkit is still a well-tested plan.
"User Generation" (CASE membership required) – March 2007
Web 2.0 might sound like tech jargon or just another buzzword, but it's more than that–it's a paradigm shift in communications that is greatly affecting education. This article defines the term and offers some background, describes how it relates to technology, outlines how and why Web 2.0 affects education, and offers a detailed description of the new mix of marketing and communications channels campuses should consider as part of a strategic communications plan.
Conference presentations & workshops:
HighEdWeb Conference – October 10, 2017 – Hartford, CT
Beyond Basics: Advanced GA in Higher Ed – panel discussion with Alan Etkin and Joshua Dodson
eduWeb Conference – August 7, 2017 – Boston, MA
Higher Ed Digital Analytics Roadmap: How to find your way on the road to marketing measurement
University of New Brunswick – July 11, 2017 – Fredericton & St John, NB (Canada)
Analytics Therapy: 2-hour workshop on getting started with your communication measurement practice.
CCA Conference – June 15, 2016 – Roanoke, VA
Analytics Therapy: 3-hour workshop on getting started with your communication measurement practice.
PSEWeb Conference – July 28, 2015 – Montreal (Canada)
Falling in love (again) with Web Analytics in Higher Ed: 1-hour conference keynote
UB Tech Conference – June 15, 2015 – Orlando, FL
Gone Digital, Going Strategic: Dawn & Rise of Digital Professionals in Higher Ed
McGill University IT Town Hall – April 28, 2015 – Montreal (Canada)
#Change: Now Trending for Generations, Expectations & Higher Education: 1-hour keynote session

High Ed Web Conference (#heweb13), October 7, 2013 – Buffalo, NY
eduWeb Conference, July 29, 2013 – Boston, MA
Can you pass the social media license test? Social Media TOS Crash Course – 1-hour session
PSE Web Conference, June 24 2013 – Vancouver, BC (CANADA)
Can you pass the social media license test? Social Media TOS Crash Course – 1-hour session
eduWeb Conference, July 31, 2012 – Boston, MA
The 2012 State of Social Media and Web Analytics in Higher Ed – 1-hour session

UB Tech Conference, June 10, 2012 – Las Vegas, NV
8th Annual Innovations in E-Learning Symposium, June 6 & 7, 2012 – George Mason University – Fairfax, VA
J. Boye Conference – May 10, 2012 – Philadelphia, PA
Clarkson University Professional Development Day – April 11, 2012 – Potsdam, NY
Social Media Audit – 1-hour session to present the results of an audit of all the social media properties associated to Clarkson University
Social Media 101 – 1-hour session for staff and faculty members
Social Media Strategy – 1,5 hour session for staff and faculty members
CASE National Conference for Publications Professionals – November 11, 2010 – New Orleans, LA
The State of Print and Electronic Publications in Higher Education– a 1-hour keynote presentation


Start the (Word)Presses: How to create the online version of your magazine with WordPress – a 1-hour workshop
SIM Tech 2010 Conference – October 21st, 2010 – Las Vegas, NV
The Higher Ed Web Analytics Revolution– a 1-hour keynote presentation with Shelby Thayer's participation

High Ed Web Conference 2010 – October 12, 2010 – Cincinnati, OH
eduWeb Conference 2010 – July 26, 2010 – Chicago, IL
EduComm Conference – June 8, 2010 – Las Vegas, NV
Measure Twice, Cut Once: A 7-Step Plan to Your Digital Marketing Measurement Strategy – a 1-hour presentation
CASE Europe – Beyond the hype: getting the most from your web presence – May 14, 2009 – London, UK
Livecast from Montreal to introduce a recorded Higher Ed Experts' webinar about admissions-sponsored students blogs presented by Nancy Prater in July 2007
CUPRAP Spring Conference – March 11-13, 2009 – Hersey, PA
AMA Symposium for the Marketing of Higher Education – 2008 – November 16-19, 2008 – Chicago, IL
eduWeb Conference 2008 – July 21-23, 2008 – Atlantic City, NJ
Podcasting for Education Conference – April 2 & 3, 2008 – The University of Warwick, Conventry, UK
"The State of Higher Ed Podcasting in the US" 45-minute presentation given via a Web link.
HighEdWebDev 2007 – October 15-17, 2007 – Rochester, NY
Virginia's Community College Institutional Advancement and PR Peer Group Conference – June 6-7, 2007 – Staunton, VA
CASE Annual Conference for Senior Communication and Marketing Professionals – September 13-15, 2006 – Philadelphia
Interviews, Quotes & Mentions in the news:
eCampus News, Sept 19, 2012 – Technologists: Colleges must adjust to the multi-screen world by Dennis Carter
MLive, July 25, 2012 – Central Michigan University utilizes Facebook Timeline to celebrate 120th anniversary by Lindsay Knake
eSchool News, June 27, 2012 – Collegewebeditor.com is an authority on all things marketing
ED Tech, June 15, 2012 – Q&A with Must-Read IT Blogger Karine Joly by Jimmy Daly
eCampus News, June 5, 2012 – Survey: Analytics 'revolution' slow to reach recruitment by Dennis Carter
ED Tech, May 15, 2012 – The Dean's List: 50 Must-Read Higher Education Technology Blogs by ED Tech Staff
eCampus News, April 4, 2012 – The 'Holy Grail' of college websites might be here by Dennis Carter
CSUS, April 8, 2011 – CSUS Website Continues to Receive Professional Praise
FOX Business, February 3, 2011 – Top Education Trends for 2011 by Emily Driscoll
Community College Times, November 24, 2010 – Favorite blogs, part 1: higher education edition by Redante Asuncion-Reed
Union College Concordiensis, October 28, 2010 – Union in Motion: Union's new video sharing site hits the web.
eCampus News, June 10, 2010 – "How colleges can drive traffic to their web sites: Marketing expert tells higher-ed IT officials about her process for developing a loyal following online" by Dennis Carter
CASE's Currents, October 2009 – "The Inner Circle" by Caroline Mayer
CASE's Currents, March 2009 – "Living in a Digital Age" by Douglas Vaira and "Streaming Media" by John Pulley
Campus Wired Blog – The Chronicle of Higher Education, September 8, 2008 – "Colgate University Has an Official Twitterer. World Yawns." by Scott Carlson.
University Affairs, August-September 2008 – "Presidents who blog" by Daniel McCabe.
The Chronicle of Higher Education, February 4, 2008 – "Study Raises New Privacy Concerns About Facebook" by Jeffrey Young.
Campus Wired Blog – The Chronicle of Higher Education, December 6, 2007 – "Colleges Create Offbeat Videos to Try to Build Web Buzz" by Jeffrey Young.
University of Maryland News, December 4, 2007 – "The Little Holiday Video That Could".
Southern Arkansas University News, November 14, 2007 – "SAU one of the first to launch new Facebook pages" by Becky Bell.
CASE's Currents, September 2007 – "Fear and Loathing in Web 2.0" by Andrea Jarrell
Aiken Standard, August 24, 2007 – "USCA expanding Web presence" by Rob Novit
CASE's Currents, May-June 2007 – "Slice of Life – Calendar Pearls" by Patricia Quigley
Hispanic Outlook of Higher Education, June 18, 2007 – "College Web Sites Going Interactive/Getting Makeovers" by Marilyn Gilroy