LinkedIn is getting out of the college decision process on May 16
If you're the adminstrator of your LinkedIn University Page, you've just received this email about important updates to Linkedin higher ed features.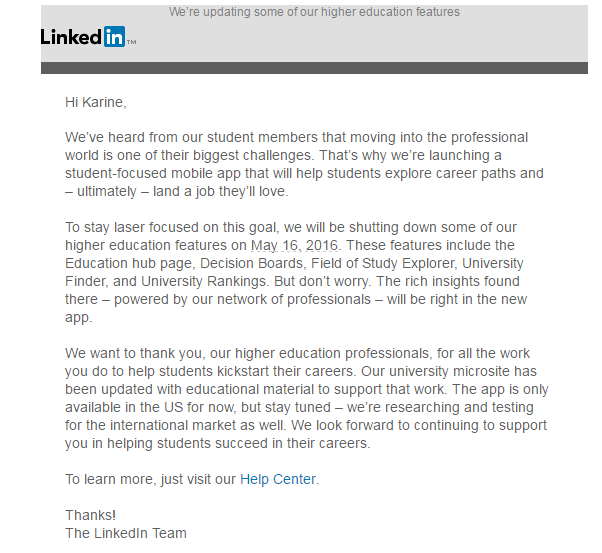 While the social media platform has decided to launch a brand new app to help students kickstart their career, it will also terminate some features your admissions office or your prospective students may have used before as explained in this excerpt:
"We will be shutting down some of our higher education features on May 16, 2016. These features include the Education hub page, Decision Boards, Field of Study Explorer, University Finder, and University Rankings."
You can read more about it in this FAQ created for the occasion.
Refocusing on helping college students start their career
Launched in October 2014, these features were supposed to get LinkedIn on the college decision map. Another goal was also to attract younger users (high school students) on the social media platform for grownups.
It now looks like this attempt failed.
Refocusing on career services for young college graduates via an app makes a lot of sense for LinkedIn and college grads.
You can get a quick overview of the new LinkedIn Students app in this short video below:
Are University Pages next on Linkedin chopping board?
When I saw the news yesterday, my first question was about the future of University Pages. So, I asked away on Twitter and got this answer.
@karinejoly Not at this time. You can learn more about University Pages here: https://t.co/zOOdBwb7gk -jlk

— LinkedIn Help (@LinkedInHelp) April 18, 2016
Since their launch in August 2013, these pages have offered a few interesting features (regrouping alums automatically for example) while suffering from an obvious lack of love and care from the platform. The absence of usable analytics data for these pages is telling.
When she saw my tweet, Dr. Liz Gross shared a post by Dave Musson reporting a different story, so I asked again and got somehow the confirmation that the days of University Pages are indeed numbered.
@karinejoly Nothing we can speak to at the moment, but we'll forward your request upward -JMG

— LinkedIn Help (@LinkedInHelp) April 18, 2016
After a bit more digging and asking, I was able to get a confirmation from a LinkedIn employee: the plan is to merge University Pages with Company Pages.
Although I've received no official confirmation about the timeframe, another credible source – not working at LinkedIn – told me this will happen by September.
My source working at LinkedIn didn't answer my question about the future of University Page data – especially the recommendations made by alums.
Hopefully, these recommendations won't end up the way recommendations for products and services did when LinkedIn decided to discontinue the feature. They just got deleted only a few weeks after the announcement.
Why am I so focused on these recommendations from alums?
Because I know by experience they are becoming more and more important – and I'm not the only one to believe so.
Seth Odell, Vice President of Creative & Marketing Strategy at Helix Education who worked for SNHU until recently, explained in a Higher Ed Live show last week that the referral rate (the rate of students recommended by other students) is the most important KPI for online education. You can watch the video excerpt if you want.
What's your dream feature for the merged Linkedin University/Company Page?
If LinkedIn really merges both pages (and doesn't simply get rid of University Pages), what would you keep, change or include in the resulting page?
Post your suggestion below, so we can all brainstorm and show to LinkedIn what the higher ed social media community wants. We might not get it, but it doesn't hurt to try to lobby for it, right?
I will also add your suggestions below if you tweet them to me
@karinejoly I'd welcome a merger of Company & University pages (I think) if it meant a single audience you could segment, plus analytics

— Mike Petroff (@mikepetroff) April 19, 2016
Unexpectedly, I've found a lot of value in our University @LinkedIn page, but definitely need more robust analytics https://t.co/vvdwZmpoQo

— Meaghan Downs (@writemegwrite) April 19, 2016
@karinejoly Crud! Just scratching the surface w/these pages. Really like being able to search alums by location, workplace, career field.

— Dan Silvia (@ReaderDan) April 19, 2016
@karinejoly It hope for a merge because my Edu is 6x the size of my biz page, I would enjoy hooking up my analytics software and publishing

— Kimberly Davis (@Kimmiedeeday) April 19, 2016
@Kimmiedeeday @karinejoly I hope if they do merge, the content remains on the page and we can continue to measure story impact.

— Tyler Thomas (@TylerAThomas) April 19, 2016
@karinejoly re: LinkedIn. Preserve ability to highlight alumni; add ability to highlight employees (esp. faculty).

— Wm Morris (@morriswm) April 19, 2016
@Kimmiedeeday @mikepetroff @karinejoly Agree to all of the above, plus posts not expiring after 30 days! Still don't understand that.

— Michaela Eames (@MklaEames) April 19, 2016