Facebook finally rolled out its new profile format, Timeline, to all users before the holiday break.
Beyond sharing in a timeline format all you ever did on Facebook (that is if you don't edit your privacy settings), your new Facebook user profile has now a reserved space for a Cover Photo, the equivalence of the big banner image that is so popular on higher ed homepages – and other websites or blogs.
Some Facebook users have already come up with some VERY creative (or just plain fun like the one Todd Sanders, aka @tsand, from UWGB used on his profile as shown on the screenshot below) Cover Photos for their Timeline.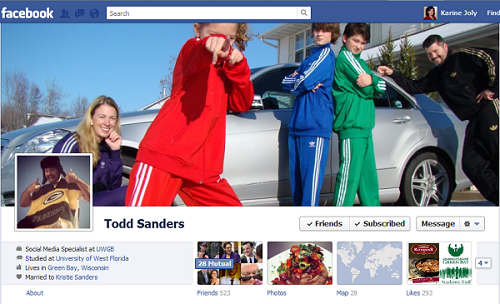 A few brands – including Moutain Dew as reported in this article published on Mashable back in December 2011 – have also identified a branding opportunity by providing nice banners designed and formatted to act as the perfect Cover Photos for their fans.

While Facebook warns users when they click on the "Add Cover" button that the intent of the Cover Photo is to showcase something truly personal and avoid using the space for blatant advertising or promotional purposes, the platform doesn't use very strong (and clear) legal terms to forbid it either – as you can see in this screenshot of the message.
It's probably borderline for traditional brands, but it looks like a fantastic opportunity for universities and colleges to spread and share the love for their brand among prospective and current students as well as alums.
Loyola University Maryland is among the first institutions (if your institution does it too, let us know by posting a comment below) to use this new branding opportunity with 6 customized and branded images, formatted to act nicely as Timeline Cover photos.
Nick Alexopulos, Media Relations Manager at Loyola University Maryland, explained in the email exchange we had about this initiative earlier this week that folks from a dozen different states have downloaded one of these banners.
Loyola hasn't done a big push yet, but the early response from a few members of the target audiences has been great. A senior even asked if the university plans to create a special Facebook Timeline Cover Photo for the Class of 2012. According to Nick, that's definitely in the plans for the commencement ceremonies as well as the alum reunion or orientation week.
Unless Facebook makes a stronger statement in its terms of services (but again, I'm not a lawyer – and Facebook just showed that it won't let you mess up with its TOS – under the spotlight at least) against the practice, this is definitely a great new channel to spread school love, pride and… brand.
And, if you want to get going and create Facebook Timeline Cover Photos for your institution, Mike Richwalsky even shares a photoshop template to get you started.