Get all the higher ed content that matters in your inbox!
Newsletter
News, events and jobs
Submit to present at the 4th Higher Ed Social Media Conference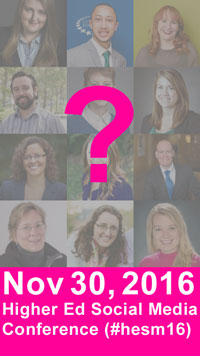 The call for proposals is open until Sep 21, 2016

About collegewebeditor.com
News, tips and, hopefully, some good ideas for people taking care of websites and online marketing in colleges and universities. Launched in February 2005, this blog is edited by
Karine Joly
Questions? Suggestions?
karine@collegewebeditor.com
Categories
Archives
---