I've been on a quest for the past few months, a quest to find my focus back and avoid drowning in the sea of information I have to process to do my job.
A few years ago, I made the choice to focus on a very specific niche: web, marketing and communications in higher education and it's been a good strategy so far. My daily job is to curate the best resources, case studies, success stories and research for this specific niche. This kind of work is what gets my Wednesday's email newsletter OPENED – not just received but actually opened, scanned and often clicked – by a quarter to a third of its subscribers.
Every single week, this Wednesday email newsletter reaches a higher ed audience similar in size to the national High Ed Web conference total attendance (don't receive yet? Subscribe now!).

While my background in journalism came very handy to do this job, it's been tougher and tougher to keep up with everything because of the sheer volume of what is published out there even in our very tiny niche. I've become a professional curator, but I can imagine how difficult this can be for people who are also expected to keep up with this mass of content on top of their day job.
I stumbled on The Information Diet by pure serendipity in my Facebook newsfeed. It wasn't even recommended by my Facebook acquaintance, just a shared link via Good Reads that resulted in a security warning from my web browser. Yet, the diet angle and the nutrition-information-looking label on the cover got me intrigued enough to do a search on Google and find the website and order the book via Amazon. It's a short book so I was able to read it pretty quickly.
So, here's is my 1-1-1 Express Book Review of "The Information Diet" by Clay A. Johnson.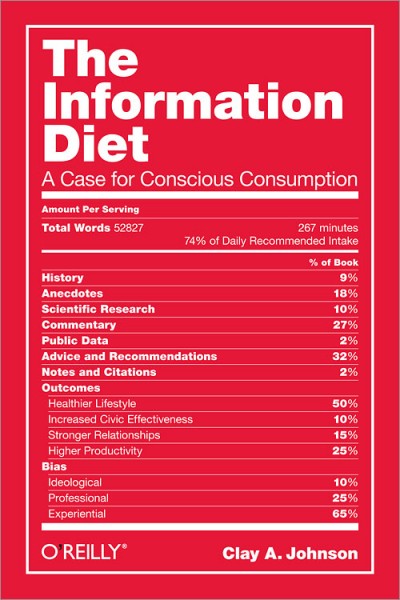 1 thing I liked

While I'm not a serial dieter, I have food issues like anybody else, which is why the food analogy works great for me. In this book, Johnson shows how our information ecosystem has followed a similar path to the food industry (more processed, less local, low quality with a lot of sugar and fat, etc.).

He also explains why the current problem we face with information is not as much information overload as it is a problem with overconsumption.

While it seems that we can't over consume the good stuff, I do think that consuming too much information even the good kind can prevent us from doing, acting or even creating as Johnson summarizes on page 64: "information consumption makes you sendentary and sometimes, it ruins your sense of time." Social media or email, anybody ;-)

1 thing I didn't like too much

I don't live in a red state. I don't live in a blue state — and actually I don't even vote… in the US (I care plenty, just voting in Canada :-). So, while I understand why there is so much about politics from a partisan AND civic point of view in this book, this is not my favorite part. If you're are suffering from what the author calls "confirmation bias" or just have different taste in politics, a few parts here and there might tick you off a little – but it could actually be good for your information diet, too ;0). As Johnson disclaims very clearly at the beginning of the book, he has been working for quite some time in politics and digital. So, this comes with the territory.

1 big take-away from the book

The biggest take-away for me is the need to re-introduce some writing time to my information diet (while trying to limit my in-take to 6 or 7 hours per day). Johnson reminded me in his book the importance of scheduling at least an hour of writing a day for synthesis or content creation. I see this writing time as the regular workout you (your brain) need to stay in shape and burn some of the calories you ingested by reading all this great (or not so great) content. Something to keep clarity and… focus.


4-week online course: Writing for Social Media and the Web in Higher Ed
(asynchronous with weekly lessons and assignments)
ONLY 10 SEATS per session