Nick DeNardis' middle name should be Redesigning.
Whether he works on redesigns with his team at Wayne State University or reviews a higher ed website for his video blog EDUcheckup, Nick is a true web redesign giant in higher education, or a web rock star if you prefer (on the top of being a nice guy!).
While he has been through many, many redesign projects, Nick has also started to become an advocate of a different approach – actually, widely used outside of higher education -, the iterative redesign approach. A few months ago, I asked him to present about iterative redesigns at the upcoming Web Redesign Boot Camp (April 12-14, 2011) and I'm really looking forward to this session.
Until then, here's a quick interview with Nick where he shares a few perls of web redesign wisdom.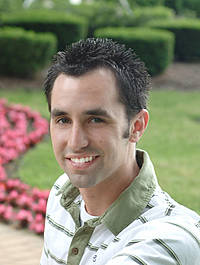 1) How many web redesigns do you have under your belt?
I have been the lead on 400+ website redesigns. The projects have ranged from a small department with a completely outdated existing site to a school/college website that encompasses 30+ content editors, numerous departments, cms's and servers.
2) In your opinion, what is the top reason for redesign projects that fail?
Not enough hard work and dedication. You can't just copy and paste content, not every page can accomplish their individual goals by using the same template and just because you see a feature on another site doesn't mean it should be implemented on yours.
3) You will share many tips and tricks during your webinar, but can you give us 2 to 3 DON'Ts when it comes to web redesign?
Don't allow input from everyone with the expectation that action will be taken on it.
Don't go through more than three design iterations.
Don't hold up the launch because of a handful of slow moving departments or people.
Planning or working on the web redesign of your higher ed website? Register for Web Redesign Boot Camp (April 12-14, 2011) to learn what you need to know.